I don't show you these to impress you…
… But to impress upon you what's possible when you finetune your Client Attraction System with us.
Check out these wins from some of our clients.
JBo got 3 students on deck in two weeks, at $4,000 each… without even launching his ads yet 👇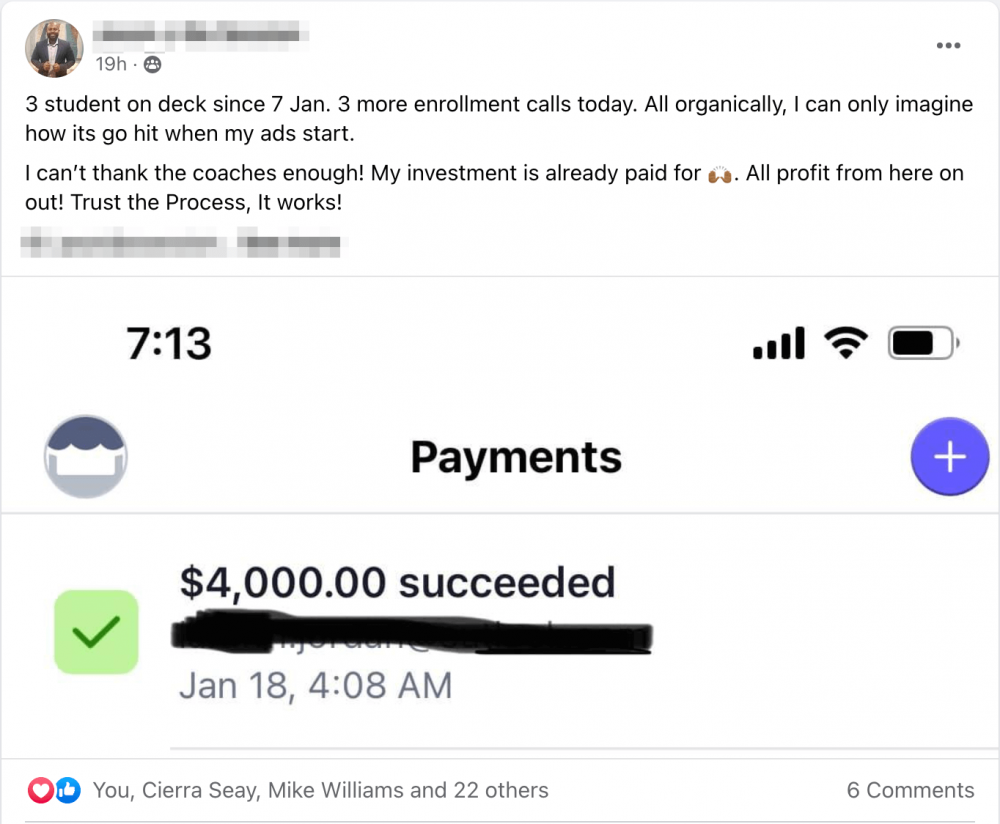 Michael shared how he crossed 6 figures last year, and keeps going up 👇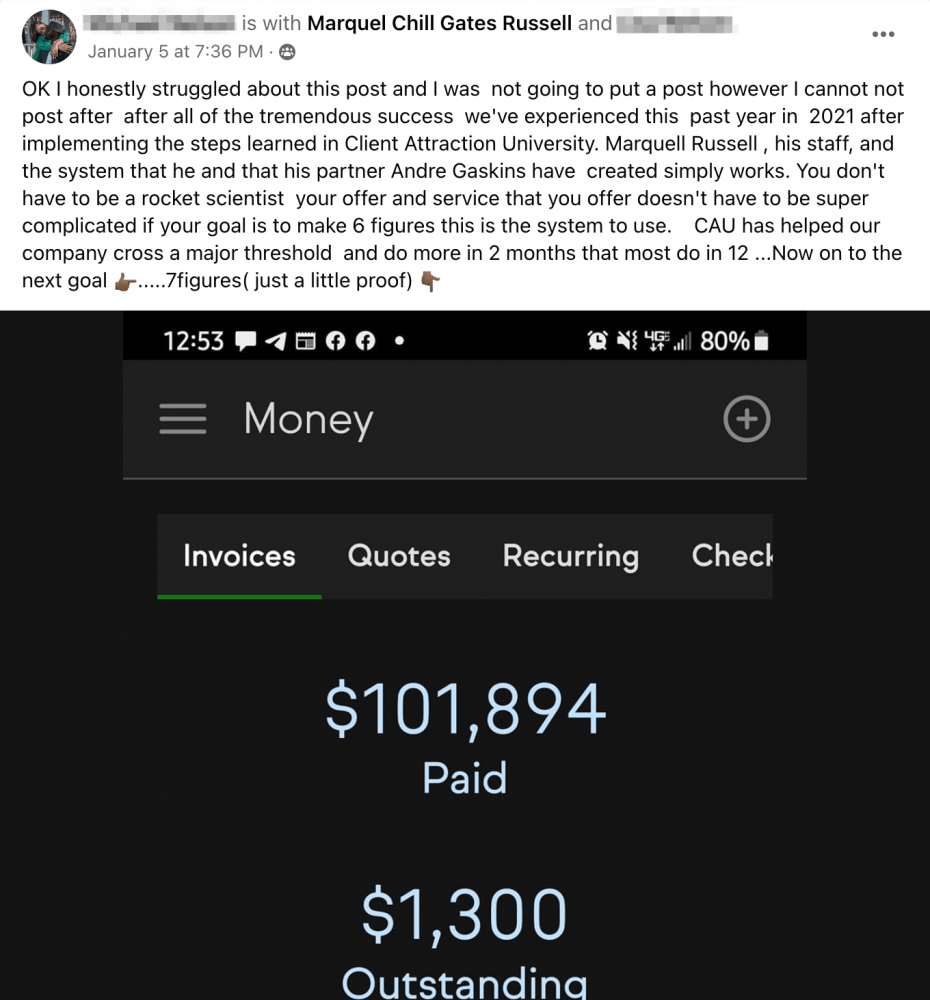 And Dr. RJ welcoming the year with a fifteen grand check 👇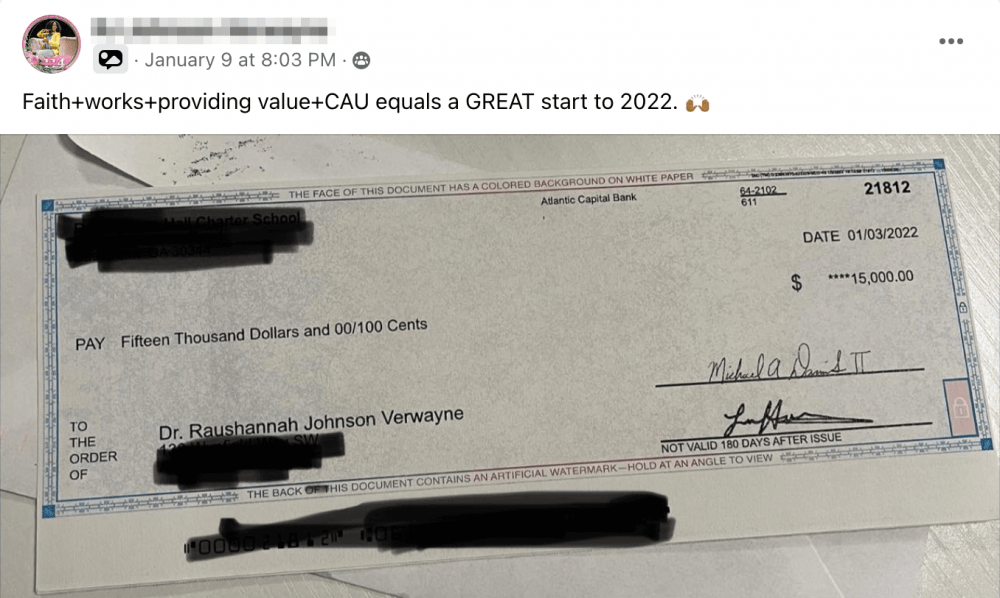 There are plenty more, but these will do for now 🙂

And to be honest… I'm not even THAT impressed.
If anything, I (jokingly) tell them:
"Oh, you did 20 grand this month? I'm really sorry, we'll do better next time."
🙃
Here's the thing…
Winning is contagious.
In fact, winning is the ONLY option when you dial in your message, your offer, your price, your sales process, & your mindset…
And that last piece of the puzzle? 
Mindset.

That's where all the magic happens. 
I've seen people shift their entire life from heading towards bankruptcy to heading towards a 7-figure net worth inside of 12 months…
…just by shifting their mindset. 
And that's where the difference is. 
Yes – we'll give you quick wins like all the folks above ☝🏿 

But let's be honest… 
You can get quick wins almost anywhere these days. 
Crypto. 
NFT's. 
The casino.
But they're unreliable. 
Sometimes ya win, sometimes you lose BIG.
Our thing is more about giving you the mindset, skill & proven systems to be able to find $3k – $10k paychecks whenever you want or need them.
And do it consistently. 

Once they've got those things in their toolbox…
Some folks are happy just taking on one new client a week. 
Then the rest of the time they can travel the world or goof off with their family. 
Others want to push the gas to the floor and take on new clients daily. 
I don't know which side of the fence you're on? 
Kinda depends on your goals? 
But my point is… 
That's the kinda level we're playing at. 
And we want you in here with us!
>>> Click here to book a time for a chat
Marquel Russell
"King of Client Attraction"

If you're looking to grow your current business, I have a free case study video that reveals The Proven System We Use To Attract 50-100 Leads Per Day That ACTUALLY Convert Into High-Ticket Clients. Click here to check it out.
Don't forget to head over to http://PaidAdPlaybook.com to get instant access to your free copy of 'The Paid Ad Playbook.'
If you're ready to work with me so I can help you attract more high paying clients on demand, go here.
Did This Help You? If so, I would greatly appreciate it if you commented below and share on Facebook
P.S: Want The Proven System We Use To Attract 50-100 Leads Per Day That ACTUALLY Convert Into High-Ticket Clients? Click here.
Copyright 2022 – MARQUEL RUSSELL – All Rights Reserved