Do you know Earnest Epps?
His success story is probably the wildest one we've had from the Rapid Business Growth Blueprint virtual bootcamp event.
In his own words:
"I took all the gems I learned at the event and put them straight into work.

Prior to attending this function, I was familiar with bringing in clients at high ticket prices…

But I had never put together a full system for it, from the advertising side, to the acquisition side, to the sales side.

And the gems that I learned form Marquel literally allowed me to CRUSH it!

… Within five to six months I was able to do over a miIIion dollars in gross revenue as a result of putting into action what I learned from him.

So if you're thinking about learning from this gentleman, I'm telling you, he's an absolute beast. He knows all the processes, from acquisition, to ascension, to closing, the entire process. So check it out!"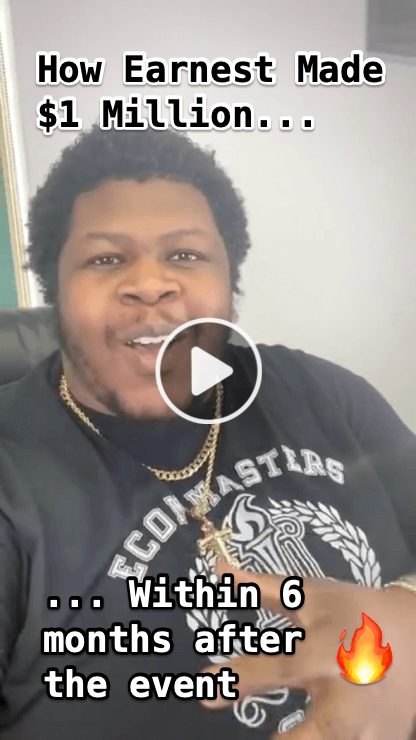 (click above to watch the video)

Hey…

I think I had never been called a "gentleman" and a "beast" in the same sentence,  but I'll take it 😅

However, all the credit goes to Earnest, who's an eCommerce beast himself.

All I did was give him the full system to attract and close high-ticket clients, every single day.
He took action, and BOOM!
Want to get the same client attraction system I gave him?
==> Grab Your Ticket And the Rapid Business Growth Blueprint
See you there,
Marquel Russell
"King of Client Attraction"