I was about to log off a couple days ago when I got this email 📧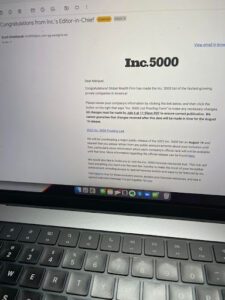 Welp… it's official! 
I remember being broke broke, promoting network marketing companies and talking about how they were an Inc. 5000 company.

And now? We've built one our own way! 

Of course we ain't gonna stop here. 

We've got bigger & bigger milestones in front of us. 

But it's important to celebrate the wins when they happen. 

Which kinda brings me to why I'm writing this to you now…
You see, if I know one thing about you right now, it's that you've got goals that you probably feel like you're nowhere near achieving. 
And that's okay. 
That's how most people feel most of the time. 
But here at C.A.U.? 
We do things a little differently. 
Everyone on planet C.A.U. smashes their goals because of ONE thing. 
Our Morning Success Formula & Identity Document. 
When you combine these two little morning rituals and follow them religiously for several minutes every day? 
You quickly take on the mindset of a WINNER. 
More? 
You quickly start moving to the life you actually WANT to live! 
Both financially and in terms of freedom. 

I know you might have tried a bunch of different mindset & productivity hacks over the years?
But let me tell you something, even though…
My queen is amazing & lifted me up more times than I can count

My brutha Aundrae locked in on the same crazy vision I had and never wavered

And our amazing team (who God divinely aligned us with) helped us build this every step of the way
NONE of the success would have been possible if it wasn't for this morning success formula & identity document. 
Because there would have been too many days where I was off my game. 
Too many days where I would have missed the target slightly.
Too many days where I was off-balance and had no way to re-center myself. 

But with this little ritual we all follow? 
We hit Inc 5000. sooner than I ever expected…
And I know for a fact that we only goin' up from here. 
Start moving towards your goals TODAY!
Marquel Russell
"King of Client Attraction"

If you're looking to grow your current business, I have a free case study video that reveals The Proven System We Use To Attract 50-100 Leads Per Day That ACTUALLY Convert Into High-Ticket Clients. Click here to check it out.
Don't forget to head over to http://PaidAdPlaybook.com to get instant access to your free copy of 'The Paid Ad Playbook.'
If you're ready to work with me so I can help you attract more high paying clients on demand, go here.
Did This Help You? If so, I would greatly appreciate it if you commented below and share on Facebook
P.S: Want The Proven System We Use To Attract 50-100 Leads Per Day That ACTUALLY Convert Into High-Ticket Clients? Click here.
Copyright 2022 – MARQUEL RUSSELL – All Rights Reserved